Sometimes a single chart can be the best way to illustrate the information supporting an investment thesis. That is the impetus behind our chart-of-the-month series.
Each month we share a data point that helps tell the story behind one of the infrastructure-related industries we invest in. This month our focus is on cable broadband providers.
The chart below, taken from Altice USA's fourth quarter 2020 earnings presentation, illustrates how the demand for faster data download speeds continues to increase, with their average customer download speed more than doubling since 2017.1 This chart speaks to both the insatiable consumer demand for faster broadband, as well as the essential nature of the service which, we believe, makes it a high quality and durable business model.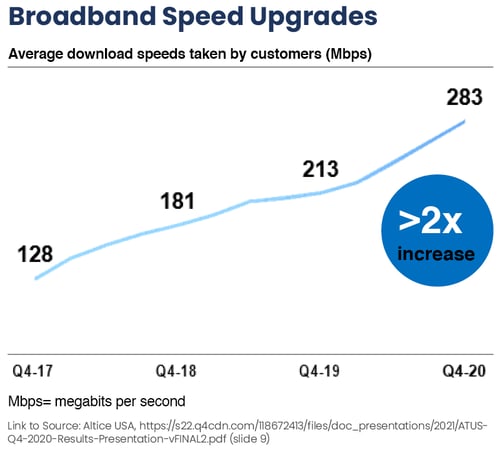 The Investment Case Explained
Here's what we believe makes consumer demand for faster download speeds a compelling component to our broadband investment case: Cable companies are one of the few businesses in the world equipped to provide it.
Cable operators' largest competitors in broadband services are telecom companies. But telecom networks were originally designed for voice calls and thus are ill-equipped to manage large data loads. Despite some significant innovation, upgrades to these legacy networks have been unable to keep pace with cable's capacity. While fiber-to-the-home networks have been deployed in markets representing approximately one-third of U.S. homes, they remain expensive to deploy in areas with lower housing density.
For those interested in more, we explain the thesis in a prior blog post; but in short, we think cable providers' superior broadband networks have created a competitive moat around their businesses. Furthermore, growing demand for faster speeds should continue to support earnings and free cash flow growth in even the most challenging economic backdrops.

Disclosures:

Reaves Asset Management is an investment adviser registered with the Securities and Exchange Commission under the Investment Advisers Act of 1940. Registration does not imply any skill or training. Reaves is a privately held, independently owned "S" corporation organized under the laws of the State of Delaware.
The information provided in this blog does not constitute, and should not be construed as, investment advice or recommendations with respect to the securities and sectors listed. Investors should consider the investment objective, risks, charges and expenses of all investments carefully before investing. Any projections, outlooks or estimates contained herein are forward looking statements based upon specific assumptions and should not be construed as indicative of any actual events that have occurred or may occur.
1 As of Reaves' 13F filing on 12/31/20, Altice USA was held in some portfolios managed by Reaves Asset Management.
Past results do not guarantee future performance. Further, the investment return and principal value of an investment will fluctuate; thus, investor's equity, when liquidated, may be worth more or less than the original cost. This document provides only impersonal advice and/or statistical data and is not intended to meet objectives or suitability requirements of any specific individual or account.
All investments involve risk, including loss of principal.
All data is presented in U.S. dollars.
Cash is cash and cash equivalents.
An investor cannot invest directly in an index.
Important Tax Information: Reaves Asset Management and its employees are not in the business of providing tax or legal advice to taxpayers. Any such taxpayer should seek advice based on the taxpayer's own individual circumstances from an independent tax adviser.
Fees: Net performance reflects the deduction of advisory fees which are described in detail in our Form ADV Part 2A.
Please contact your financial professional, or click the following links, for a copy of Reaves' Form ADV Part 2A and Form CRS ." Additional information about Reaves may be found on our website: www.reavesam.com.
2021© Reaves Asset Management (W. H. Reaves & Co., Inc.)