We believe it's time for investors to rethink the traditional asset allocation model of 60% equities and 40% bonds by moving the broader portfolio slightly up the risk curve and into defensive equities.
With the yield on the 10-year U.S. Treasury Note1 remaining below 2% since January 2020, it is our view that future returns from bonds will be well below their historic returns. In fact, the Bloomberg Barclays US Aggregate Bond Index2 has returned only 3.4% annualized over the past ten years.3
We suggest investors consider replacing 10% of the traditional 40% fixed-income allocation with defensive equities like those found in Reaves' essential infrastructure portfolios. Moving up the efficient frontier and reallocating fixed income exposure into the equities of companies with high barriers to entry and limited competition that generate consistent, sustainable cash flows, we believe, can potentially improve the overall performance of the 60/40 model portfolio4 with minimal impact on volatility.
Defensive equities with such characteristics have been our investment niche for decades. It's why we've dedicated a great deal of focus to the utilities sector, the lowest beta5 sector within the S&P 5006 Index.
As the table below illustrates, replacing a portion of the fixed income allocation of the model portfolio by adding exposure to utilities improved performance over multiple time periods, with little change to the portfolio's beta.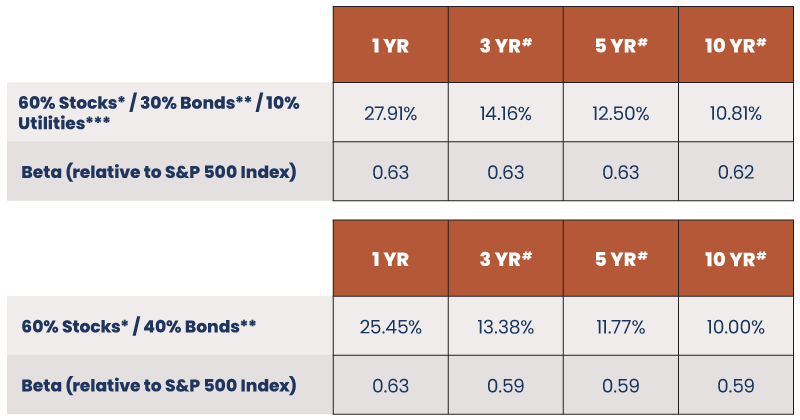 Source: eVestment *Stocks = S&P 500 Index **Bonds = Bloomberg Barclays U.S. Aggregate Bond Index
***Utilities = S&P 500 Utilities Index

#Annualized as of April 30, 2021



We believe the data says a lot about the role defensive equities can play in a traditional model portfolio. One way to add utilities exposure is through the Virtus Reaves Utilities ETF (ticker: UTES), an actively managed utility portfolio which has outperformed the S&P 500 Utilities Index7 since its inception.8
If you have more questions about our defensive equity strategies and the role they play, join us for a live call where we explain our strategies and answer your questions.