The devastation across Florida caused by Hurricane Ian dominated the news in late September. Receiving less coverage, however, was how quickly the lights went back on for the 2.1 million electric customers who lost power — a result of smart planning and massive investments.
Hurricanes are the greatest natural threat to Florida and the Gulf Coast region's electric infrastructure; historically leaving residents without power for weeks and sometimes months. In 2005, however, after an especially difficult hurricane season in which the state had seven storms make landfall, Florida Power & Light (FP&L), the largest utility operator in the state, embarked on an over $5 billion grid reliability spending program to strengthen infrastructure in an effort to prevent future extended outages for customers.
The program included:
the hardening of main power lines that serve critical community facilities and services;

the inspection of distribution power poles;

replacing wooden transmission structures with new ones made of steel or concrete;

installing more than 5 million smart meters and 170,000 intelligent devices.
We believe the results of this spending have already proved beneficial to FP&L's customers. They are better served through improved monitoring and management of the grid, quicker detection and prevention of power outages, and speedier restoration times when outages occur. Shareholders of FP&L's holding company, NextEra Energy (NEE), have also benefited from the investments associated with grid reliability. As explained in a prior blog, most utility investments are approved by state regulators and the company is allowed to earn a return on the equity dollars they invest. The results after Hurricane Ian offer further evidence of the potential for grid reliability investments to benefit not only customers, but regulators and utility companies as well.
In their Q3 earnings conference, NEE discussed the impact of their grid hardening investments and how it "enabled the company to restore service to roughly two thirds of affected customers after the first full day of restoration following Hurricane Ian's landfall. This represents the fastest restoration rate in our history for a major hurricane."1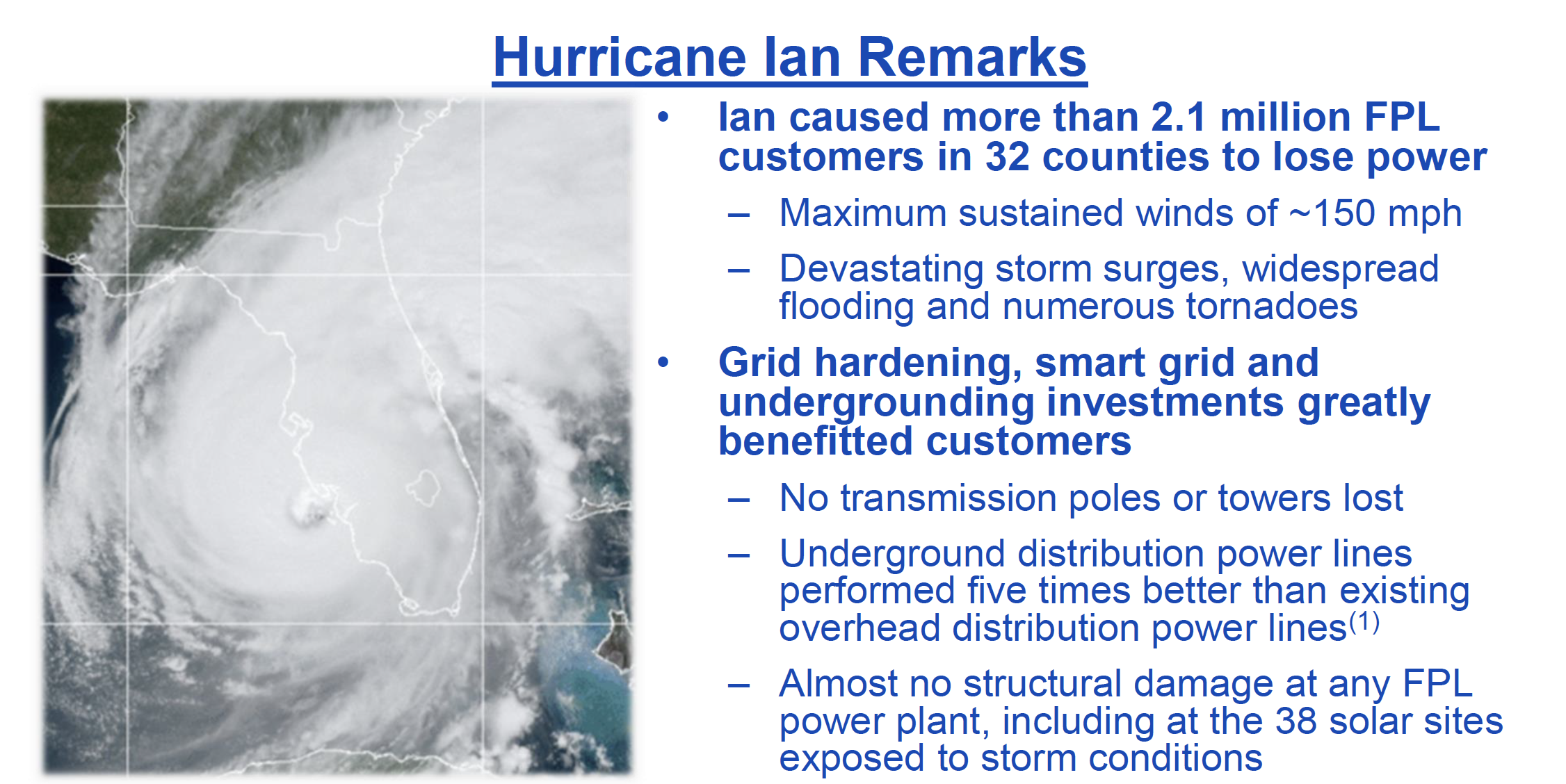 Link to source: 3Q 2022 Slides vF.pdf (nexteraenergy.com)
NEE's management framed the importance of the companies' reliability spending in the same call saying "despite sustained winds of approximately 150 miles per hour, FP&L did not lose a single transmission pole or tower during Hurricane Ian. Additionally, initial performance data showed that FP&L's underground distribution power lines performed five times better, in terms of outage rates, than existing overhead distribution power lines in Southwest Florida." On their relationship with regulators, management noted they "were pleased that the Florida Public Service Commission substantially approved our 2023 storm protection plan earlier this month, which we expect will lead to an even stronger and more resilient grid for the benefit of our customers."1
The mutually beneficial relationship grid reliability spending presents for regulators and customers is why, we believe, investments like those seen in Florida will continue across the sector into the future – a potential positive for utility customers and investors alike.