This month, the Virtus Reaves Utilities ETF (UTES) celebrates its six-year anniversary. Just as it was six years ago, UTES remains the only ETF which applies active management to the selection of utilities stocks – a subset of the equity market that we believe investors should consider giving more attention.
In our view, the unique, defensive characteristics of utilities sets them apart from much of the investable equity universe and warrants a specialized allocation to the sector. Those defensive characteristics are derived from the utility business model. Most utilities are capital intensive monopolies with extremely high barriers to entry, limited competition, and the ability to produce consistent, sustainable cash flows year after year. As a result, many utility stocks have steadily grown earnings and dividends, even in challenging economic periods.
Utilities are also highly regulated, which we believe gives us an edge over other investors due to our decades of experience monitoring and analyzing regulatory developments in the sector at both the state and federal levels.
As the charts below show, collectively, these characteristics have helped the sector achieve the lowest beta and best downside capture of all the major industry sectors over the past 20 years.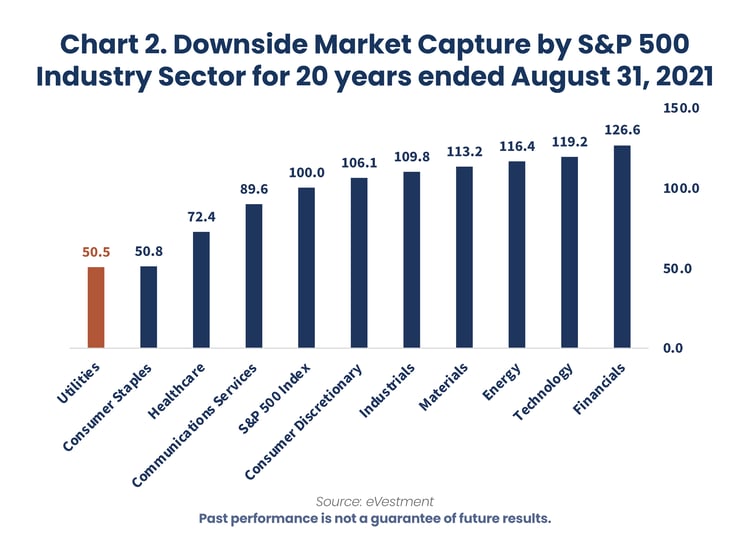 Defensive – With Growth
As we've discussed in a prior blog, a promising theme that is fueling growth for utilities is the demand for renewable energy. The sector is currently in the early innings of a massive capital expenditure cycle that may ultimately make the electric grid greener.
Utility companies earn a set return on the amount of invested capital they deploy. When there are opportunities to invest in a long-term theme like renewable energy transition, well-positioned utilities may be able to generate growth in earnings and dividends for years to come.


Does Your Portfolio Need Defensiveness?
With the prices of U.S. equities recently hitting new highs (as measured by the S&P 500 Index), some investors may be looking to add more low-beta, defensive equity strategies to their equity allocation. We believe an active, utilities-focused strategy could fit the bill.
To learn more about our essential service infrastructure approach, we invite you to read our investment brief on this area of focus. To obtain a prospectus for the Virtus Reaves Utilities ETF, which contains this and other information, visit the following website: www.reavesetfs.com or call 1-888-383-0553. Please read the prospectus carefully before investing or sending money.