The Reaves Long Term Value Strategy1 began investing in railroad stocks starting in 2011. The reasons are straightforward: rail networks possess many of the characteristics we seek in our essential infrastructure portfolios including high barriers to entry, limited competition, low risk of bankruptcy and durable cash flow generation to support share repurchase programs and dividend growth.
Railroad networks are truly unique infrastructure assets; new rail systems are near impossible to build on account of modern population density and ensuing construction limitations, why most of the current North American network was built in the latter half of the 19th century. The result is a modern oligopoly of only seven North American operators as noted in our previous blog. Also discussed in our prior blog, improvements in operating ratios over the last decade have led to more efficient systems and, in turn, increased free cash flow generation.
The current market value of railroad networks has been on full display in 2021. Canadian Pacific Railway (CP) announced on March 21st that it had agreed to acquire Kansas City Southern (KSU)2 in a $29 billion transaction creating the first North American railway system spanning the United States, Mexico, and Canada3. However, the CP offer was upended a month later when Canadian National Railway (CNI)4 announced a competing offer which valued KSU at $33.7 billion or $325 per share. CNI's CEO highlighted that the deal would create "…highly complementary networks with limited overlap that will enable them to accelerate growth in single-owner, single-operator, end-to-end service across North America."5
On May 21st, KSU agreed to accept CNI's higher offer. The terms specify that CNI will pay $200 per share in cash and exchange 1.129 shares of its stock for each share of KSU.6 The stock price chart below illustrates the performance of KSU since January 2020 and highlights the dates of each company's bid.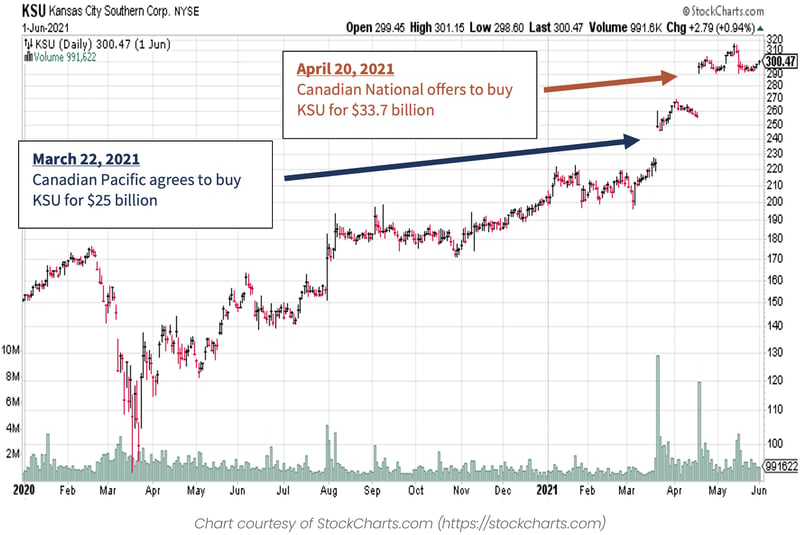 When a portfolio holding is involved in a transaction of this type, our investment team must consider various questions when deciding what actions, if any, need to be taken. These may include: what are the regulatory hurdles for the deal, how long will it take for the transaction to close, should the shares of the acquired company be sold, what are the tax implications of selling the acquirer or acquiree, are the combined entities' synergies and guidance goals attainable, and what, if any, management changes will the deal create?
The management teams of both CNI and KSU have made detailed filings in support of the proposed merger with the Surface Transportation Board (STB) in order to gain regulatory approval. Assuming approval is received, as proposed, the Reaves team is optimistic about the future growth of the combined entity and its potential contribution to the competitive returns we seek to achieve in our essential infrastructure portfolios.
Over the next year we will be carefully monitoring the progress of this transaction while continuing to assess each company's operations. Based on the deal terms and the current share prices, if we take no action, upon closure the newly combined company could be one of the largest positions in some of our Long Term Value portfolios. As noted above, KSU shareholders will be receiving shares of CNI plus cash. Once the merger is completed, the Reaves investment team will be tasked with redeploying the cash received into one or more securities to support our investment objectives of low double-digit total return with lower volatility.
To learn more about Reaves' essential infrastructure portfolios or schedule a call with our investment team please click graphic below.