Rethinking the traditional 60/40 allocation … the "greening" of the utility sector … and some stats that point investors to the most defensive pockets of the equity market. Three of our most-read blogs of 2021 remain big issues and focus on trends investors should be aware of as we begin the new year. You can read our three most popular blogs below.
Also, if you would like for us to cover a specific topic in 2022, we would love to hear from you. Just fill out the form on our contact us page and we will be in touch!
Sincerely,
The Reaves Investment Team


---
One Chart May Illustrate the Trouble with a 40% Bond Allocation
As rates have steadily fallen since the 1980s, fixed income returns have dwindled … and dwindled … and dwindled. The chart below may put the diminishing return stream from bonds in perspective. It also invites several questions: With interest rates still near historical lows, what can investors expect from bonds in the next decade? And, if return projections are low, can investors still afford to dedicate 40% of their portfolio to the asset class, or is the traditional 60/40 stock and bond allocation mix due for a rethink? We believe such questions will be some of the most important for advisers and other asset allocators to consider over the next decade. Bonds will continue to play a role in diversified portfolios, providing downside protection and dampening volatility.
---
The Case for Utilities as an Impact Investment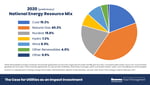 As a growing subset of investors look for their assets to achieve both positive returns – and positive societal change – they may want to consider utilities. True, the industry doesn't currently have the lowest carbon footprint. But perhaps no other sector provides a greater opportunity to have a direct influence on the world, especially as it relates to the environment. We believe this is due in large part to where these businesses are headed and the investments necessary to get them there. The argument may seem counterintuitive. ESG (Environmental, Social, and Corporate Governance)-labeled strategies, that typically appeal to investors wanting to affect change, tend to own companies that are considered to already have relatively minimal impact on the environment.
---
Utilities Sector: Two Stats Investors Should Know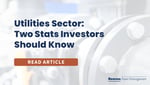 This month, the Virtus Reaves Utilities ETF (UTES) celebrates its six-year anniversary. Just as it was six years ago, UTES remains the only ETF which applies active management to the selection of utilities stocks – a subset of the equity market that we believe investors should consider giving more attention. In our view, the unique, defensive characteristics of utilities sets them apart from much of the investable equity universe and warrants a specialized allocation to the sector. Those defensive characteristics are derived from the utility business model. Most utilities are capital intensive monopolies with extremely high barriers to entry, limited competition, and the ability to produce consistent, sustainable cash flows year after year.
---